Are You Ready for the 2020 Census?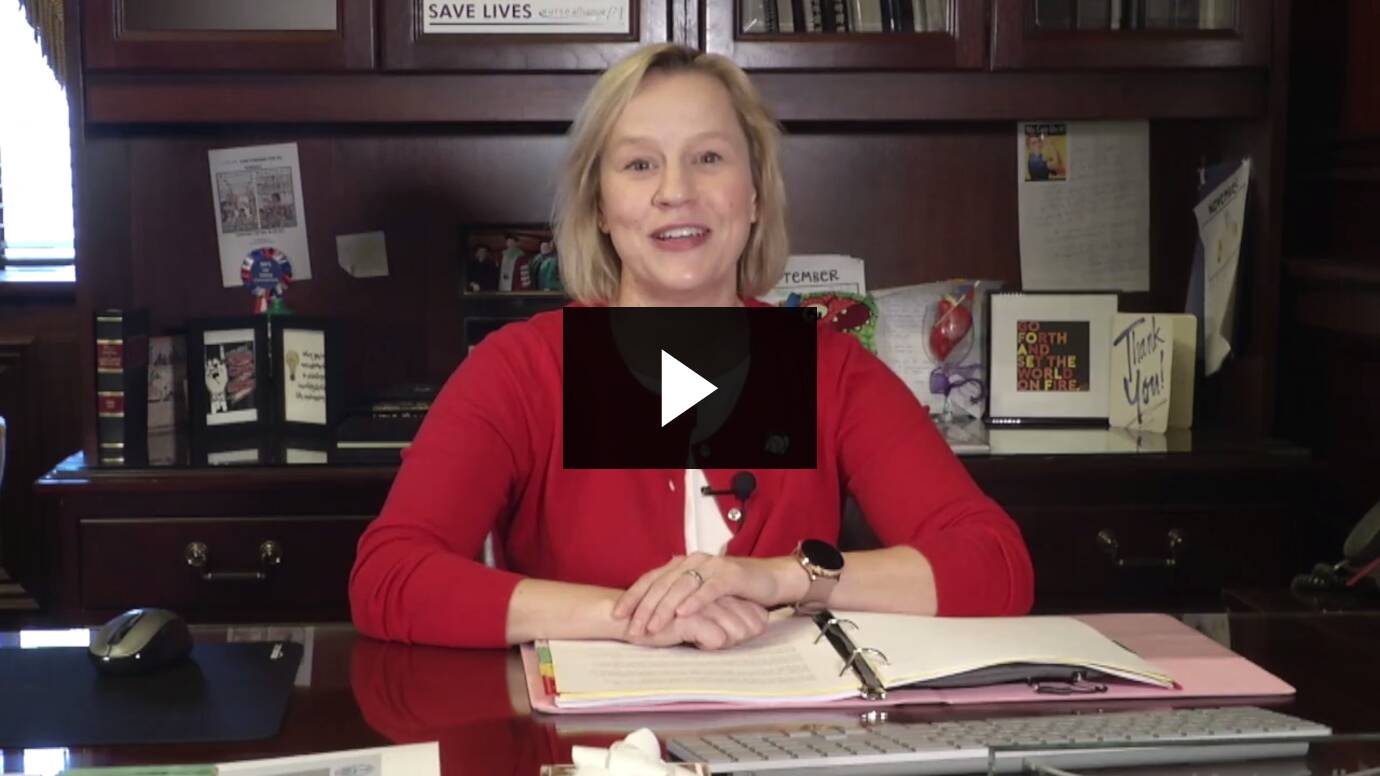 The 2020 Census officially begins on April 1, 2020 and it's crucial that we all participate. The Census will determine how many Congressional seats and Electoral College votes our state gets, track demographics, and help decide where federal tax dollars are spent for the next decade. For each person counted, Pennsylvania will receive $2,093 for essential programs like Medicaid, Medicare and SNAP.
Check out my video to learn more. And make sure you are aware of fraudulent census scams by reading the AARP's tips here.
Making the REAL ID Process Easier
As the October 1, 2020 REAL ID deadline approaches, my staff and I are spending a lot of time fielding questions and complaints. The process of gathering documents can be particularly difficult and costly to our seniors, immigrants, and especially women within those groups. At last week's budget hearing, I challenged PennDOT Acting Secretary Gramian to get creative in finding more solutions to make things easier for you. You can watch my line of questioning and her responses here.
In an effort to provide some financial relief to seniors applying for the REAL ID, I introduced legislation to create a senior discount of at least 50% on processing fees. The bill currently sits in the Transportation Committee. Please contact your other state representatives to make sure they are supporting this commonsense bill!
My staff and I are doing everything we can to assist constituents with getting their documents together and navigating the REAL ID process. Feel free to contact us if you're having trouble and we will do our best to help you through it. Please visit my website at www.SenatorCollett.com/Realid for additional information.
Coronavirus Updates
As the Coronavirus (COVID-19) begins to surface in the United States, Pennsylvanians should keep calm and take regular precautions. Currently, there are no confirmed cases in our Commonwealth. You can help stop the spread of viruses by washing your hands, covering your mouth when coughing or sneezing, disinfecting surfaces, and staying home when you are sick. The Pennsylvania Department of Health also suggests creating a home emergency kit with items like non-perishable food, bottled water, a first aid kit, and medications. For more information on home emergency kits, protecting yourself from illness, and developments in the Coronavirus, visit www.health.pa.gov or the CDC's website.
In the District
School Safety Grants
I'm thrilled to announce $1.3M in school safety and community violence prevention grants for our district! These grants will allow our schools to take a more comprehensive, thoughtful approach to school safety. From supporting school resource officers and psychologists to expanding violence prevention curriculum and trauma-informed services, this funding will help set our students up for success. To see the list of awardees in the 12th District, take a look at my recent press release.
Read Across America Day
On Monday, I celebrated Read Across America Day with students at Simmons Elementary School in Horsham. Read Across America is a nationwide celebration of reading that takes place on Dr. Seuss's birthday.  At Simmons, we kicked off their One School, One Book program by reading a chapter of Fenway and Hattie by Victoria Coe. After I finished reading to the third grade class, they asked some great questions about my job as a Senator, what kind of nursing I've done, and what my favorite books are. It's wonderful to see our schools encourage a love of reading!
Thank You for Donating!
Thank you to everyone who participated in my February donation drive in partnership with the Mattie N Dixon Community Cupboard in Ambler. Together, we collected more than 125 pounds of food for our community members.
My staff and I always enjoy partnering with local non-profits and our constituents to collect essential items like food, clothing, and more. Do you have an idea for our next donation drive? You can send your ideas to Bailey.Landis@pasenate.com.
Announcements
SURVEY: Help Improve Senior Services in Montco
Are you a Montco senior or caregiver? The Montgomery County Office of Senior Services wants to hear from you! Please take a few minutes to fill out their survey about your experiences. Your responses will help their office plan for the future and improve services for our seniors! Click here to fill out the survey online. My staff will also have paper copies available at our regular senior community visits and in our offices.
Senior Scam Prevention Seminar
Learn how to protect yourself and your family against fraud at my Senior Scam Prevention 101 event at the Montco SAAC in Ambler! We will be joined by experts from the PA Attorney General's office who will share their best scam prevention tips. Montgomery County Senior Services and the SeniorLAW Center will also be attending to answer your questions and offer helpful materials. I hope to see you there!
Coffee with Collett in Ambler
Save the date for our next Coffee with Collett event in Ambler at Wake Coffee Roasters! Stop by on Thursday, March 12 anytime between 8:30am-10am to chat about the local issues that matter to you.
Dark Waters Screening & Panel
On Sunday March 15, join us for a free screening of Dark Waters, a Mark Ruffalo film about PFAS contamination in West Virginia. The screening will be followed by a panel discussion with myself, State Rep. Todd Stephens, the Buxmont Coalition for Safer Water, and more. Register for your free tickets before they're gone here.
Stay Connected
Looking for assistance? Want to share your thoughts on legislation or community issues? Stop by our district office in North Wales or Warminster Monday through Friday between 9:00am and 4:30pm. You may also email us at senatorcollett@pasenate.com or call us at 215-368-1429 if we can be of service.
Stay up-to-date by 'liking' my Facebook page and following me on Twitter and Instagram.
Offices of State Senator Maria Collett
North Wales Office
Gwynedd Corporate Center
1180 Welsh Road | Suite 130
North Wales, PA 19454
Phone: 215-368-1429
Fax: 215-368-2374
Warminster Office
1410 W. Street Road
Suite A
Warminster, PA 18974
Phone: 215-674-1246
Fax: 215-674-1361
Harrisburg Office
183 Capitol Building
Senate Box 203012
Harrisburg, PA 17120-3012
Phone: 717-787-6599
Fax: 717-783-7328