Harrisburg Update
Fall Session has begun, and I'm back in Harrisburg working on behalf of the 12th District. We've hit the ground running with Judiciary Committee hearings on crucial issues like gun safety and repealing the Statute of Limitations on sexual offenses. I am also gathering support for several pieces of legislation:
Menstrual Equity
I'm thrilled to introduce the "Pennsylvania Menstrual Equity Act," which will ensure menstrual products are made available at no cost in public restroom facilities funded by Pennsylvania agencies that serve the young, low-income, homeless, and incarcerated. Humans need toilet paper, and public restrooms supply it. This is no different.
My district offices collected menstrual products from September to October 18th. Thank you to everyone who made the drive so successful! If you missed the deadline, but would still like to donate, check with Mitzvah Circle Foundation or your local food pantries and shelters. They're always looking for donations!
REAL ID Senior Discount
Concerns about REAL ID are some of the most common constituent requests my office receives, and the additional processing fee can present a real barrier for seniors on fixed incomes. I'm excited to be introducing SB 855, which would create a senior discount of at least 50% on REAL ID processing fees.
Public Works Impacted Business Tax Credit
When I saw a post from a local restaurant on Facebook about their struggle during a necessary but prolonged construction project, my team and I brainstormed ways we could help. Unfortunately, businesses across PA are impacted by projects like these at one point or another.
That's why I introduced legislation to establish the Public Works Impacted Business Tax Credit, which would help alleviate the financial impact that public works projects have on our local businesses as we seek to improve our infrastructure across the state.
Much of my legislation comes from concerns my office received from members of our community. Do you have an issue you'd like me to know about? Would you like to weigh in on a particular piece of legislation? Please don't hesitate to contact my Harrisburg office at 717-787-6599 or email senatorcollett@pasenate.com.
In the District
The last few months have been jam-packed with constituent meetings, business tours, ribbon cuttings, and community events! Here are just a few highlights.
Health & Wellness Fair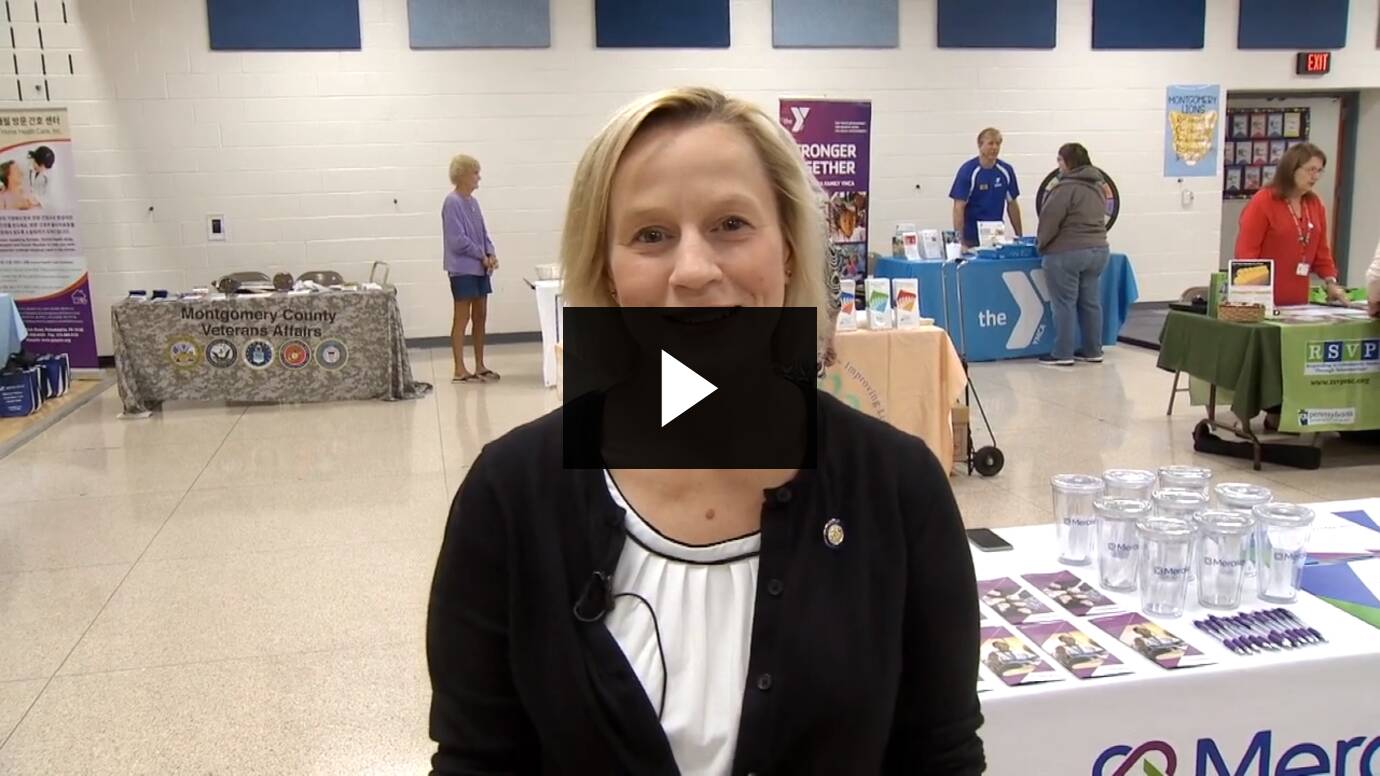 This September, my staff and I put on our first annual Health & Wellness Fair at Montgomery Elementary School in North Wales. We had a great group of vendors from all sectors of the health industry.
12th District Town Hall
I held my first 12th District Town Hall at the Horsham Library! I talked about what I've been working on in Harrisburg and in the district, and (most importantly) heard from members of our community about the issues that matter to them.
Weinrich Bakery Turns 100
Weinrich Bakery in Willow Grove recently celebrated its 100th Anniversary, and I was honored to be there to help celebrate (and eat way too many sweets)!
Korean War Memorial Ground Breaking
Over the summer, we broke ground for the Korean War Memorial American-Korean Alliance Peace Park. The park will recognize local and national Korean War veterans and those currently serving at the Korean Station. I was honored to present Ambassador Hyo-Sung Park of South Korea an official certificate of recognition on behalf of the Commonwealth of Pennsylvania!
Community Days
My staff and I have been at community events throughout the district, from North Wales to Warrington, Lower Gwynedd and Montgomery Township, talking with constituents and sharing the services our office can provide.
Getting out into the 12th District and meeting constituents is one of the best parts of my job. I hope to meet you at a community event soon!
Announcements and Upcoming Events
Menstrual Equity Rally at the Capitol
October 19th was the first National Period Day, a day to raise awareness about period poverty and advocate for access to menstrual products.
In Harrisburg, I will be participating in a Menstrual Equity Rally on Tuesday, October 22 at 1pm in the Capitol Rotunda. I'll join other legislators and activists in rallying support for menstrual equity legislation in the House and Senate.
Diwali Celebrations
BAPS Shri Swaminarayan Mandirs in Warrington and Lansdale are hosting Diwali celebrations on Sunday, October 27. Known as the Festival of Lights, Diwali celebrates the triumph of good over evil. These events are open to all members of the community to enjoy Hindu culture, traditions, and food!
Lansdale Event: Sunday, October 27, 1:30pm, 2021 E Township Line Road, Souderton, PA 18964
Warrington Event: Sunday, October 27, 12:00pm, 998 Easton Road, Warrington, PA 18976.
Senior Scams Event
Learn how to spot scammers and protect yourself from fraud at our Senior Scam Prevention 101 event on Thursday, November 14 from 1:30pm-4pm at the Ben Wilson Senior Activity Center. Representatives from the PA Attorney General's Office and BB&T Bank will give you tips on avoiding common scams, and local organizations will be available to answer your questions and provide additional information.
For more information, contact my Warminster office at 215-674-1246.
We will be announcing several additional events this fall to serve our community...stay tuned!
Stay Connected
Looking for assistance? Want to share your thoughts on legislation or community issues? Stop by our district office in North Wales or Warminster Monday through Friday between 9:00am and 4:30pm. You may also email us at senatorcollett@pasenate.com or call us at 215-368-1429 if we can be of service.
Stay up-to-date by 'liking' my Facebook page and following me on Twitter and Instagram.
Offices of State Senator Maria Collett
North Wales Office
Gwynedd Corporate Center
1180 Welsh Road | Suite 130
North Wales, PA 19454
Phone: 215-368-1429
Fax: 215-368-2374
Warminster Office
1410 W. Street Road
Suite A
Warminster, PA 18974
Phone: 215-674-1246
Fax: 215-674-1361
Harrisburg Office
183 Capitol Building
Senate Box 203012
Harrisburg, PA 17120-3012
Phone: 717-787-6599
Fax: 717-783-7328